The College encourages the development of the whole person not just the academic, so we offer numerous opportunities for students to participate in co-curricular sports and activities.
All sports are dependent on student participation numbers and parent volunteers.
The College will endeavour to offer as many co-curricular sports and activities as possible; however, in order to ensure the viability of the activity we need committed parent volunteers who will assist with the running of each sport and activity. This can include conveners, managers, coaches and other volunteer positions.
The Sports Presently Offered:
Netball
Each year Mercy Catholic College enters teams in the Northern Suburbs Netball Association Competition. The competition is played during the winter months, and fixtures commence at the beginning of April and run through to the end of August. The games are played on Saturdays at Bicentennial Park, adjacent to the Willoughby Leisure Centre.
Soccer / Football
Mercy Catholic College enters teams in the well organised North West Sydney Women's Football competition. The Football season commences in March and continues through to late August / early September.
Rugby
NSW Schoolgirls Rugby 7s Competition which is a competition held in Term 1 and Term 4 each year. There are junior, intermediate and senior divisions and we have teams in each.
Basketball
Mercy Catholic College enters teams in the NSBA and MWBA competitions. Training is throughout the week whilst the competition is held on various week nights during the College term at either Willoughby Leisure Centre or at the NSBA courts at Crows Nest and Warriewood for games played with MWBA.
Swimming
Facilitated by Fitness First Swim School, swimming is offered twice a week catering to all levels with qualified coaching at a reasonable cost. Currently it occurs on Wednesday & Thursday mornings from 7.00 am to 8.15 am at the Fitness First Gym Endeavour Street, Chatswood. Parent convenors provide supervision for students at the gym.
---
For further information on specific sports and activities, registrations or the Code of Conduct please contact Co-Curricular Administrator Mrs Margaret Kellendonk on 7256 2120 or email
---
All co – curricular Sports and Activities will require additional payment for registration fees, and may require purchase of sporting uniform, equipment etc. All fees and charges are advised prior to registration. Payment is required prior to commencement of any sport or activity and all participants All sports teams will have training sessions that all participants must attend. Transport to and from sports and activities are the responsibility of parents and students.
---
All co-curricular activities are governed by the Colleges Code of Conduct displayed within the registration forms. We encourage students to promptly register their interest once the activity is opened as places are limited.
---
In addition to the College Co-curricular sports and activities select students have the opportunity to compete in The Broken Bay Secondary Schools Sports Association (BBSSSA).
Through the Secondary Schools Diocesan Pathway, students are given the opportunity to represent the College, the Diocese and ultimately NSW in the following Sports;
Softball (trial), Basketball, Touch, Swimming, Soccer, Cross Country, Netball, Athletics, Surfing/Bodyboarding, Golf (trial), Tennis, Beach Volleyball, Biathlon (invitation only), Surf Life Saving and Rugby League/League tag.
 BBSSSA Member Schools
St Augustine's College, Brookvale
Mercy Catholic College, Chatswood
St Edward's Christian Brothers College, Gosford East
St Joseph's Catholic College, Gosford East
St Paul's Catholic College, Manly
Stella Maris College, Manly
Mount St Benedict College, Pennant Hills
Brigidine College, St Ives
St Peter's Catholic College, Tuggerah Lakes
St Leo's Catholic College, Wahroonga
Mackillop Catholic College, Warnevale
Mater Maria Catholic College, Warriewood
St Brigid's Catholic College, Lake Munmorah
BBSSSA aims
to encourage and promote inter-school competition and diocesan spirit.
to cater for the gifted and talented sporting students in the Diocese.
to extend a sporting opportunity for students with friendly, organised inter-school competition that encourages increased participation as well as the development of excellence.
to promote quality relationships amongst students, teachers, schools and the Diocese.
Students who are involved in representing Mercy Catholic College at Broken Bay events are able to follow the pathway to National representation as follows: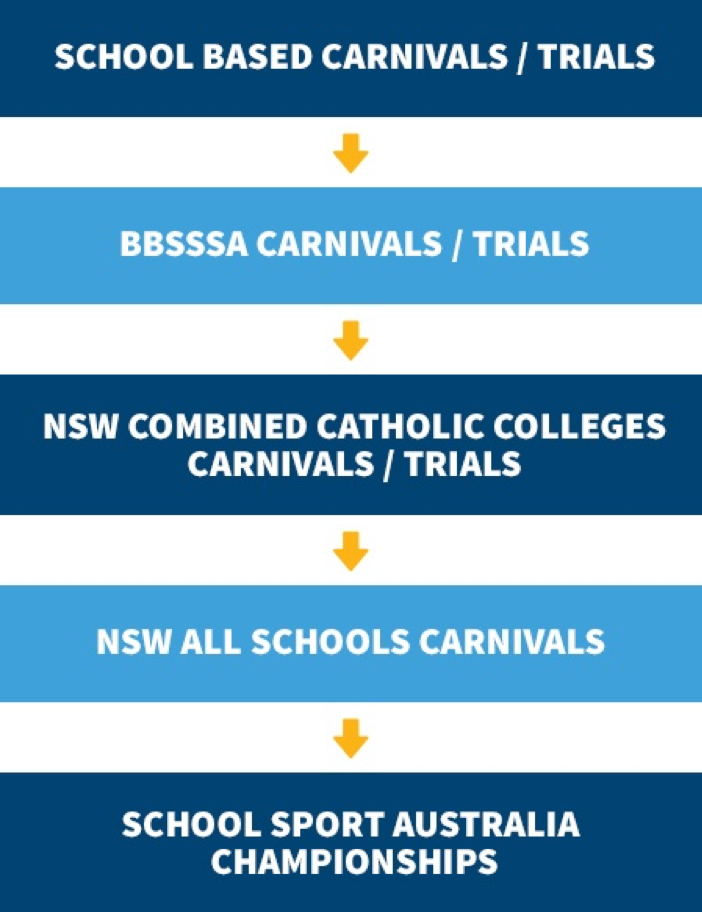 The Diocese is able to offer a number of sporting pathways, however; some sport trials are offered at NSW CCC level. For further details visit:

BBSSSA

NSW CSSS