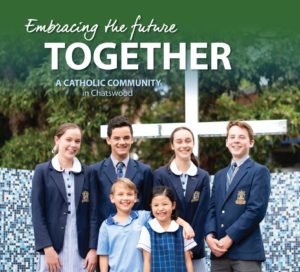 Our Lady of Dolours Parish is the centre of a vibrant educational community comprising three connected Catholic Schools. Our Lady of Dolours Chatswood, Mercy Catholic College Chatswood and St Pius X College Chatswood have a distinctive, unique connection through the spirit of God. The spirit and teachings reflects all that we do in the classrooms, across the curriculum, on the sport fields, in the playground, on the stage and with the community.
All our students are provided with vast opportunities to be involved in learning activities that suit their interests and abilities, including a wide range of co-curricular activities. Programmes have been implemented to cross promote activities between the schools to enhance student learning and  develop strong relationships and interact in a positive way.
Staff, parents and other influencers are committed to empowering students to reach their full potential, to become life-long, independent learners and become active contributors whilst upholding to a dynamic faith based community.
Working together providing a continuous and supported Catholic Education we welcome you to visit our College Open Days/Tour – for more information please visit our websites.
Mercy Catholic College
www.mercychatswood.nsw.edu.au
Our Lady of Dolours
www.olddbb.catholic.edu.au
St Pius X College
www.spx.nsw.edu.au