During the lockdown period, Vinnies was forced to suspend their regular Night Van food distribution, needing to move instead to providing pre-packed snack packs on a daily or weekly basis from central pickup locations across Sydney.
Students at Mercy were informed of this, and a student in year 7, with her family, took on the initiative and provided Snack Packs to the Lewisham branch, aiding those who they could.
We thank you so much for your efforts.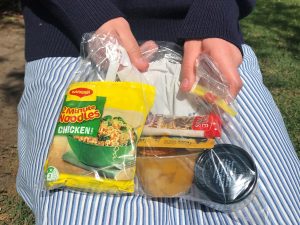 If you are interested in doing the same, Vinnies has asked the the following:
It would be greatly appreciated if you could please source and collect the supplies required to make up our snack packs and either: – Pack them into snack packs ready for distribution (Bags of 20 Snackpacks, made of 5 items each)) and then deliver the completed packs to the Night Patrol bases at Lewisham or Liverpool; OR – Donate supplies in bulk (not in snack packs) directly to the Night Patrol bases at Lewisham or Liverpool.  – Alternatively, you can arrange drop offs via the school by contacting charise.gange@dbb.catholic.edu.au
PLEASE NOTE: ALL drop offs – whether they are completed packs or bulk items – will need to be BOOKED IN ADVANCE through Christina (0477 440 567 or Christina.gilio@vinnies.org.au) or via the school.
The Items Required include: 
Popper juices
Cans of tuna
Cuppa soup/packets of sachet soup OR Cuppa noodles/packets of noodles
Le Snak/cheese Dippits
Family boxes of chip packets
Fruit Cups
Packets of Sultanas
Pre-packed packets of biscuits e.g. Tiny Teddies
Muesli Bars (nut-free). Please note: museli bars must be chewy e.g. Uncle Tobys Choc Chip Bars.
Offsite Snack Packing Instructions:
Each snack pack should have FIVE items in total in a zip lock bag OR white plastic bag tied in a knot.
Please ensure that each snack pack has ONE (single serve portion) of the FIVE items listed above. Please note: one box of soup with TWO sachets equals TWO single serve portions. Please do not put a whole box in one snack pack.
Please include a mixture of sweet and savoury choices.
Place 20 completed snack packs in a double bagged black garbage bag and tie in a knot.
Contact Christina to arrange for drop off at Lewisham or Liverpool. – Or contact Ms Charisse Gange at 94192890 or charisse.gange@dbb.catholic.edu.au